In today's digital age, having an online portfolio is essential for any photographer looking to showcase their work and attract potential clients. A photography portfolio website is not only a platform to display your best shots, but it is also an opportunity to express your style and vision as a photographer.
It is simply not enough to present yourself to prospective clients or employers with just an Instagram link or a pdf document. To be taken seriously as a professional photographer, you simply must have a good website.
Creating a photography portfolio website can seem like a daunting task, but with the correct tools, it's really not that difficult.
In this blog post, I will explain the key steps that we teach in our business of photography module, to create a photography portfolio website that highlights your unique style and brings you potential clients.
Table of Contents
Importance of photography website
In this digital age, especially for photographers, having a well-designed website is not an option—it's a necessity. Your design will determine your future client's first impression as well as the quality of your photos.
Establishing Professionalism: The first impression matters; a sleek, professional website portrays you as a serious photographer. Your website acts as your digital storefront, demonstrating your commitment to your craft.
Showcasing Your Work: A well-curated portfolio on your website can speak volumes about your style, expertise, and vision. It enables visitors to appreciate your talent and approach to photography, enticing them to engage with you further.
Attracting New Clients: A website is your online business card that helps clients find you, learn about your services, and reach out. It gives potential clients an easy way to explore your work, and if they like what they see, it's a straightforward process to contact you.
Essential Elements of a Photography Website
Creating an engaging photography website goes well beyond displaying a few images. Here are key elements to consider.
Home Page: Think of your home page as the 'front window display' of your digital store—it needs to captivate visitors at first glance. It is the most critical component of your site. It should be captivating and provide a snapshot of what you offer. A well-designed home page will hook visitors and encourage them to explore more of your work. Feature some of your best photographs here to entice your audience, and make sure it's easy for visitors to navigate to other parts of your website from here.
Portfolio: Your portfolio is the heart of your website—it should showcase your best work that aligns with your photographic style. Group your galleries based on your clientele (e.g. wedding portfolio, make-up portfolio, product photography, etc) and make sure to add image descriptions. Keep your galleries updated with your latest and greatest work, ensuring it truly represents your current skills and vision.
About Me/ Bio: Your bio is a chance to share your story, credentials, and personal touch—making you relatable and trustworthy. It should be authentic, engaging, and reflect your personality as it's often the second page a visitor goes to after viewing your portfolio.
Contact Information and booking system: Providing clear contact information and a user-friendly booking system on your photography website makes it easy for potential clients to get in touch and book your services. Ensure that your contact form is straightforward and includes fields for essential information, such as the client's name, email address, and project details.
Blog Section: Having a blog and regularly updating it will significantly help your google ranking (SEO). Regularly publish informative and entertaining content, such as behind-the-scenes stories, photography tips, and industry news, to keep your audience engaged and establish yourself as an authority in your field.
Client Testimonials: Client testimonials help build credibility and reassure prospective clients of your professional abilities. Positive feedback from past clients shows new visitors that you deliver excellent results and service. As an example, you can check how we display this on our website with a dedicated page and in all course pages (for example at our free course).
Choosing the Right Platform for Your Photography Website
With several website builders available, it's essential to select the right platform for your needs, considering factors such as ease of use, customization options, and pricing. You can choose from three different platforms, then select the correct provider within that platform.
| | Specialist | Generalist | WordPress |
| --- | --- | --- | --- |
| Customize | 1 | 2 | 3 |
| Ease of use | 2 | 3 | 1 |
| Price (*) | 1 | 2 | 3 |
| SEO | 1 | 2 | 3 |
(*) for price, higher score means lower price
A. Specialist Photography Website Platforms (Photodeck, SmugMug, PhotoShelter)
Specialized photography website platforms cater specifically to photographers' needs, providing built-in features such as Lightroom integration to albums, e-commerce to allow your clients order photos directly from your website and client proofing galleries where your clients can make selections and make orders for editing. The biggest disadvantage is usually the blogging capabilities and the higher price from all the additional features. The target client is a working professional photographer.
Our recommendation in this category is Photodeck: This French company has all the features compared to the other US based competitors plus offer European tax compliance, multi-language as a basic option and Lightroom integration.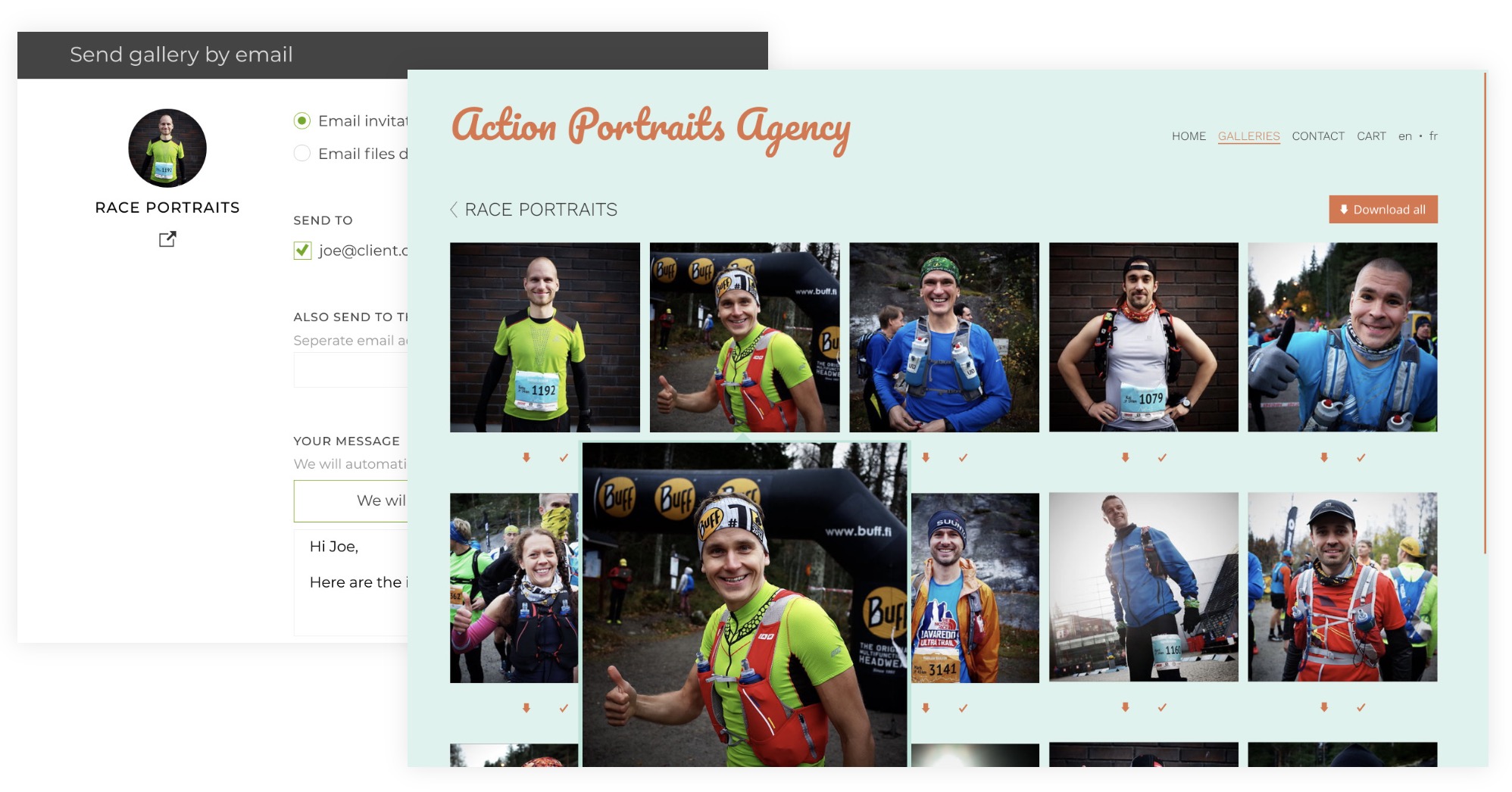 B. Generalist Website Platforms (Wix, Squarespace, etc)
These generalist platforms are known for their intuitive, user-friendly interfaces, catering mostly to the hobbyist photographers. They both offer a variety of drag-and-drop features, making it easy for even beginners to build a beautiful website. They also come with some eye-catching, designer-made templates.
However watch-out for a few disadvantages:
These beautiful templates usually are designed around the colors and themes of the provided images: They might not work as well with your own photos.
Limited Customization: While both platforms offer customization options, they might not be as extensive as what a specialized photography website builder or a platform like WordPress could provide.
Fewer Photography-Specific Features: Generalist platforms might not offer some of the specialized features that dedicated photography website builders provide. For example, client proofing tools, integrated print selling, or high-resolution image delivery might be less robust or absent altogether.
Our recommendation in this category is Wix: Squarespace and Wix are very similar, however we recommend Wix purely because of multi-language capability, which is very important in today's age where you will want to be present in both English and local language searches.
C. WordPress (wordpress.org, not .com)

WordPress is a popular content management system, powering more than 40% of all the websites on the web. If you want full control over your website's design and don't mind a steeper learning curve, WordPress might be the perfect choice for you. With thousands of themes and plugins available, you can tailor your website to your specific requirements, creating a unique and dynamic online presence.
Advantages of WordPress
High Degree of Customization: When it comes to customization, WordPress stands unparalleled—offering complete control over every aspect of your website's design and functionality. You can adjust every detail of your website and choose from thousands of themes and plugins to add specific functionality.
Rich Plugin Ecosystem: WordPress's extensive plugin ecosystem allows you to add virtually any functionality to your website, such as:

Image optimization plugins
Full fledged e-commerce solutions like WooCommerce.
Multi-language solutions like WPML

Strong SEO Capabilities: With WordPress's robust SEO features, your website stands a better chance of ranking high on search engine results, driving more traffic to your site. WordPress offers excellent SEO capabilities, which are further enhanced by plugins like Rank-Math SEO. This can help your website rank higher on search engine results, making it easier for potential clients to find you.
Price: You can create your WordPress website for free, however you will still need to purchase your domain and hosting : We recommend Infomaniak for this in Switzerland. However, in total, this will still be much cheaper than the above two options.
Disadvantages of WordPress
Steep Learning Curve: Though powerful, WordPress can be overwhelming for beginners due to its more complex interface and the vast array of customization options. It might take time to learn how to use WordPress effectively, especially if you're new to website building.
Photographer specialized features: Even if extremely powerful, it will be difficult to get the same features that the specialist platforms like PhotoDeck offer, such as Lightroom integration, portfolio customisability and client proof galleries.
How to use WordPress
To use WordPress, we recommend Informaniak in Switzerland. Here are the steps:
Select and add your domain (we recommend to add both .com plus .ch or .de)
Select web hosting
Add your free email address to the order
Install wordpress automatically from the Infomaniak admin
In conclusion, WordPress offers powerful and flexible tools that can create a highly customized, feature-rich photography website. However, this platform might be more challenging for beginners and requires ongoing maintenance. As always, consider your technical comfort level, specific needs, and resources when choosing a platform for your photography website.
Designing and Customizing Your Photography Website
A. Selecting a Theme and Layout
Choosing the right theme and layout for your photography website sets the foundation for your site's appearance and user experience, ensuring that it aligns with your brand and style. When selecting a theme, consider factors such as aesthetics, functionality, and ease of customization to find the perfect fit for your needs.
B. Integrating Your Branding Elements
Incorporating your branding elements, such as your logo, color scheme, and typography, helps create a consistent and recognizable visual identity across your photography website. Ensure that your branding is cohesive and reflects your artistic vision, contributing to a memorable user experience.
C. Optimizing Image Display and Load Times
Ensuring that your images are displayed at optimal quality and load quickly is essential for providing an enjoyable user experience on your photography website. Compress your images to reduce file size without sacrificing quality, and consider using a Content Delivery Network (CDN) to improve load times for users around the world.
D. Creating a Responsive and Mobile-Friendly Design
A responsive and mobile-friendly design ensures that your photography website looks great and functions smoothly on all devices, accommodating the growing number of mobile users. Test your website on various devices and browsers to identify and resolve any usability issues, ensuring a seamless experience for all visitors.
Marketing and Promoting Your Photography Website
A beautiful website is completely useless if no one can find it. Use the below recommendations to increase your site's visibility.
A. Search Engine Optimization (SEO)
Implementing SEO best practices on your photography website helps increase your visibility in search engine results, driving more organic traffic to your site. Optimize your website by using relevant keywords, creating high-quality content, and building a robust backlink profile to improve your search engine rankings.
You can also register your website to an SEO tracking service. These are usually very expensive, but use SE Ranking which is much more reasonably priced and have all necessary features (e.g. site audit) that you can immediately use.
B. Social Media Integration
Integrating social media platforms into your photography website enables you to expand your reach, engage with your audience, and drive more traffic to your site. Share your latest work, blog posts, and promotions on platforms like Instagram, Facebook, and Pinterest to connect with potential clients and grow your online presence.
C. Email Marketing and Newsletter
Incorporating email marketing and a newsletter subscription option on your photography website allows you to nurture relationships with your audience and keep them informed about your latest work, promotions, and events. We do not recommend MailChimp as they are now very expensive and many other services have the same or even better features. As Swiss Photo Club, we use MailerLite since late 2022.
D. Networking and Collaboration
Actively networking and collaborating with other photographers, industry professionals, and influencers can help increase your exposure and attract more visitors to your photography website. Attend photography events, join online forums, and participate in social media communities to connect with like-minded individuals and grow your network.
Monetizing Your Photography Website
A. Selling Prints and Products
Adding an e-commerce component to your photography website enables you to sell prints and photography-related products, generating additional income streams. Use platforms like Photodeck or WooCommerce to integrate a secure and user-friendly online store into your website. You can also use our favorite print service Saal-Digital to display and sell your prints directly from a gallery you create on their website.
B. Licensing and Stock Photography
Offering licensing options or participating in stock photography platforms can provide you with an additional source of revenue from your photography website. Research and join reputable stock photography websites like Shutterstock, Adobe Stock, or Getty Images to sell your work to a broader audience.
C. Offering Online Courses and Workshops
If you possess a wealth of photography knowledge and experience, creating and selling online courses or workshops through your website can be a lucrative way to monetize your expertise. Develop engaging and informative courses, and promote them through your website, social media, and email marketing to attract interested learners.
Maintaining and Updating Your Photography Website
A. Regularly Adding New Content
Regularly updating your portfolio and blog with fresh content keeps your photography website relevant and encourages visitors to return. Set a schedule for adding new photos and blog posts, ensuring that your website remains up-to-date and showcases your latest work. Photodeck's Lightroom integration is perfect for this.
B. Monitoring Website Performance and Analytics
Keeping an eye on your photography website's performance and analytics helps you identify areas for improvement and measure the success of your marketing efforts. Use tools like Google Analytics and Google Search Console to track user behavior, traffic sources, and search engine rankings, enabling you to make informed decisions about your website's development.
C. Staying Informed on Industry Trends and Best Practices
Staying current on industry trends and best practices ensures that your photography website remains up-to-date and competitive in the ever-evolving digital landscape. Subscribe to photography blogs, podcasts, and newsletters to keep your finger on the pulse of the photography world and incorporate new ideas and techniques into your website.
Final Thoughts: The Journey to a Thriving Photography Website
Building a successful photography website takes time, effort, and creativity, but the rewards of showcasing your work, building your brand, and growing your business make it well worth the investment. With dedication and persistence, your photography website can become a powerful tool in your journey to success as a professional photographer.
Frequently Asked Questions (FAQ)
How much does it cost to create a photography website?
The cost of creating a photography website varies depending on the platform, theme, and additional features you choose. Expect to spend anywhere from a few hundred to a few thousand CHF / Euros for a professional website, including hosting, domain registration, and maintenance costs.
Should I include prices on my photography website?
This is subjective and depends on your business model. Many photographers prefer to discuss pricing directly with clients, while others publish packages and pricing tiers on their website. We usually recommend to include a phrase like "Starting from XXX Eur" in the pricing section. This will give you flexibility when you meet the client and also eliminate people who cannot afford even the cheapest package.
How can I protect my images from theft on my photography website?
To protect your images from theft, consider using watermarks, disabling right-click functionality, and compressing your images to lower their quality when saved. Additionally, use tools like Google's reverse image search to monitor unauthorized use of your work and take appropriate action when needed.
What are the best platforms for hosting my photography website?
If you are serious about photography and want to make sure you make the right choice now for the long term, we recommend either a specialist like Photodeck or the full flexibility of WordPress with the Elementor plugin. For much more casual use, you can check the popular platforms like Wix and Squarespace. Each platform offers different features and pricing, so choose the one that best aligns with your needs and budget. See our discussion at the beginning of this article for more info.
How can I improve my photography website's search engine ranking?
To improve your website's search engine ranking, focus on search engine optimization (SEO) techniques, such as incorporating relevant keywords, creating high-quality content, and building a robust backlink profile. Additionally, ensure that your website loads quickly, is mobile-friendly, and provides a user-friendly experience. You can track your SEO performance with a service like SE-Ranking.
What types of content should I include in my photography blog?
Your photography blog can feature a variety of content, such as behind-the-scenes stories, photography tips and tutorials, industry news, gear reviews, and personal projects. Focus on creating engaging and informative content that resonates with your target audience and showcases your expertise.