The inspiring true story of SPC Photo Awards winner Diana Ülzmann
We had the honor of meeting Diana at the SPC Photo Awards exhibitions in both Munich, Germany and Geneva, Switzerland. When we heard her story, we knew we had to share it, so we asked her to do an interview. We hope you'll find her journey as inspirational as we did.
Humble Beginnings
My name is Diana, but I go by Gigi as a nickname. I am originally from Brazil. I left home when I was 19 years old and at 47 now, I can gladly say I have been around a lot and seen a lot, of course always with a small camera in my bag. I guess it was because I needed an escape from so many struggles in life. After failing tons of times in other underpaid jobs here in Munich–like cleaning lady, babysitter, office assistant here and there, good lord also in sales at the Munich airport–doing crazy painful hours and and being paid so badly, feeling like giving up now and then, I decided to try a photography business after one of my best friends suggested it. I started it officially 2 years ago. Everyone except her discouraged me in every way. But I am a tough cookie and wanted to give it a try – I literally had absolutely nothing to lose.
I never went to Photography school. In fact, I am self-taught and didn't know at first how to use Manual mode or the meaning of ISO, shutter speed, or aperture, let alone how to use it all. I had good friends who supported me in the beginning when I was building my portfolio. And over these 2 years, my work has improved and progressed to the point that my signature is all over it, even without adding my name (so say those who have been following me). At this point, I've gotten a few bronze and silver awards, among the top 10 and 5 two years in a row by the Portrait Masters in America.
But becoming a professional wasn't an easy ride. I needed to work harder to get better skills; I needed to allow myself to get out of my comfort zone and be creative; I needed to work on myself in order to work better with clients. I wanted to reach excellence. I wanted to give the extraordinary. And sometimes it can be tiring, because we battle with ourselves only to do better and be different. And doing all that alongside running a successful business in a such competitive field was not easy! But the ride was so good. I wouldn't do it differently. And this journey is the best one of my life.
Joining the SPC Photo Awards in Munich & Geneva
My first group exhibition was at the SPC Photo Awards in Munich. I did it to have my name exposed and to show people in this town my work. Surprisingly, I got the second place by the public vote (even though I don't have many friends in town) with my work called "I am Africa." This is one of my proudest works, and it also won fourth in the world at the Portrait Masters competition in America this year.
But in Geneva, I sincerely wasn't sure if my work would be accepted, let alone selected to be printed in a bigger size based on my research on Instagram where portraits were / are not that popular there. I just wanted my work to be seen in a platform where it could be appreciated and understood on some level. I wasn't expecting an award, especially because I don't know anyone in Geneva to vote for me.
I was just happy, climbing up the stairs, that everyone could see my work beautifully exposed. I was hoping it would touch someone's heart.
Close Call
I decided at the last minute to go to Geneva for the Vernissage. Well… last minute sometimes doesn't work in our favour! I couldn't find an affordable plane or train ticket for a day, and I needed to be back the next day for a client photoshoot. Driving was not an option either, so I decided to go by bus. Along the way, I started learning few sentences in French. I had a whole scene in mind where I would hide behind people just to watch their reaction in front of my work, me with a glass of wine walking around and talking to people! It sounded perfect actually until the traffic jam hit, all the way to Geneva. My anxiety went through the roof. Praying was no longer an option. Once I got to the bus station, I luckily found a taxi driver who was crazy enough to speed and even run two red lights to help me to get there. I overtipped him of course. But I was there 20 minutes before you guys closed. A little turmoil of feelings – happiness , relief, you name it 🙂
The Geneva & Munich Photography Scenes
In Munich, based on my public vote award, it feels like Portrait is more appreciated. In Geneva a bit less – maybe because Switzerland is more of a landscape country with insanely beautiful spots for photography and so people do that more often. Or maybe because of the culture where people are not as comfortable being photographed, let alone professionally.
What I liked about each event is that space is given to all levels of photographers, welcoming each style and giving them the chance to shine, to be seen and understood.
"I am Africa"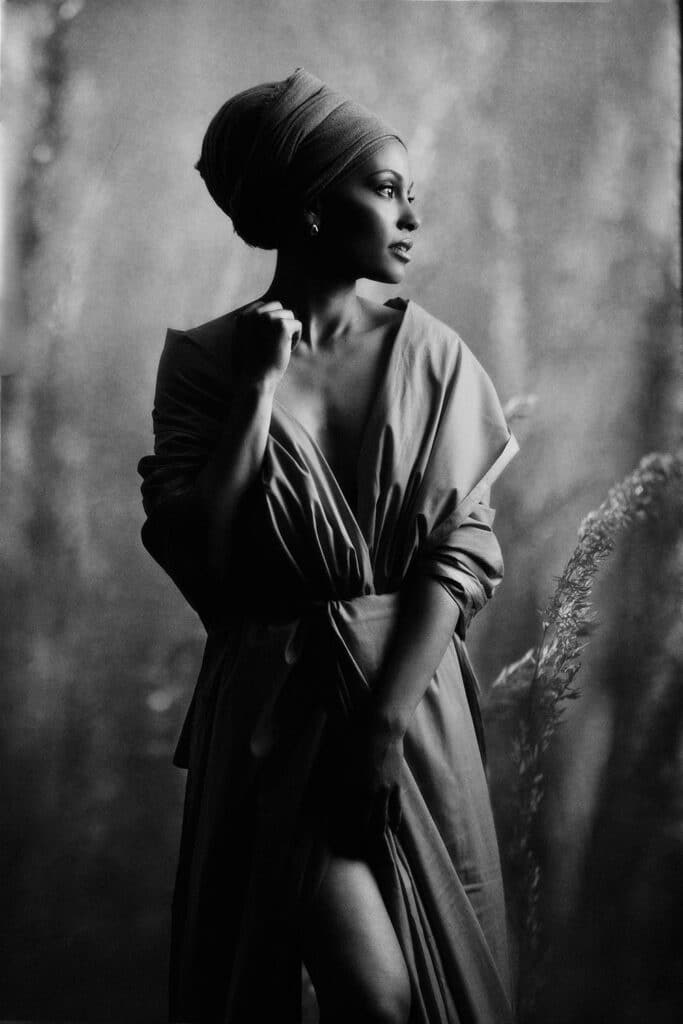 I made "I am Africa" in my first year as a professional photographer. I met Tabea through a friend. Initially, I was going to do a motherhood portrait (which I also did and received international awards for), but while the baby was sleeping, I had a second to look at her and I knew exactly how I was going to bring her to life. After we exchanged a few life experiences, I wanted to bring the heritage, history, and homeland that she is so proud of into her portrait. And I knew it had to be in black & white so her whole essence could stand out – which it did. For the Vernissage in Munich, I was on time (kkk) and I was just observing and listening to comments about her, like, "Wow she is so beautiful!" and "Stunning portrait." When the picture was sold and the buyer actually wanted me to sign it, I knew I had done a good job 🙂
"The Blue Queen Out of Camera"
My "The Blue Queen out camera" is actually a singer / composer in Paris. When she hired me, we talked many times to design her photoshoot. I knew that I needed to come up with something different, extraordinary to a "next cover album" level. The pressure was intense because I didn't want to disappoint her. I got detailed information about the things she likes, and as her favourite color is blue, I got a piece of fabric, placed it in front of her body and voilà – she was born! Expressing everything she is and foreshadowing what she dreams of becoming.
Once she saw it, she cried and hugged me tight. I felt I needed to touch other people's hearts too when they see her through my work – it seems poetic, but I believe everything is Energy.
What Makes Portrait Photography Special
It allows people to be whoever they want to be. It makes them vulnerable–but so brave at the same time–to expose themselves to the photographer's creativity. And if they are lucky to have a professional that captures that vulnerability beautifully and turns into something beyond the expected, I would say they are lucky.
I believe that a portrait can say a lot or nothing at all. The fraction of a second that a photographer has to change someone's life, give them an opportunity to see themselves for the first time, find themselves for the first time, celebrate themselves–it's quite powerful!
I feel like I still have tons to learn and it is never enough 🙂 But I would love to learn from other photographers. After all, this field is so vast, with knowledge from all around the globe, possibilities in every corner, ways to express beauty and make art. Having a community to share and learn from just fascinates me, truly.
Advice for Future SPC Photo Awards Participants
Try portrait photography. It is such a powerful genre. The connection exchanged in it. The emotions of gratitude you get once photos are shown to your clients or subjects. After all, everyone has a story to tell, so then be a photographer that people will share their stories with. And along with that, bring your skills to the table. Be creative. Don't be average. Be extraordinary in your skills and let the world see it. 🙂
Thank you Diana, for sharing your story with us!
See more of Diana's work at her website, TrinityStudios.de and follow her on Instagram @_trinitystudiosphotography
Join the next SPC Photo Awards event in Switzerland or in Germany for the chance to share your own perspective through photography.